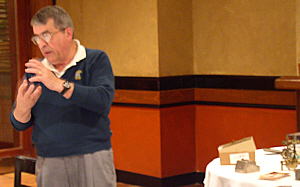 Frank Menez always starts off Show & Tell with a lively talk. We should challenge him sometime to give his talk with his hands in his pockets.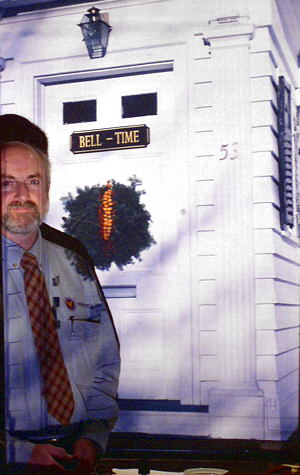 Looks like Bob Frishman was inviting us into his home. Actually, he sort of did. Bob's presentation with slide pictures of beautiful clocks (and some ugly ones too) was very entertaining and educational.
Be sure to check out Bob's Bell -Time web site
http://www.bell-time.com/
The Papa-Razzi Restaurant served us well and the food was excellent.

Meeting Announcement
We will be trying out a new meeting place, Papa-Razzi Restaurant in Wellesley. Please come and give your opinion on this new place and vote whether or not to make this change permanent. Registration begins at 6:00 PM and Dinner will be served at 7:00 PM. The dues for the 2004-2005 year are $20 and were due in September. If you have not yet paid your dues please do so as soon as possible.
Dinner: There will be a choice of 3 beverages and 6 entrees. The cost is only $20 !!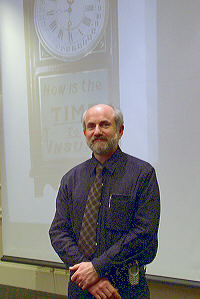 Speaker: Bob Frishman. Bob repairs, conserves, and restores antique clocks professionally. He is a Past President of Chapter 8 NAWCC and has also served as the Chapter Treasurer for a number of years. Bob currently is a member of the Board of Directors of the American Watch and Clock Museum in Bristol, Connecticut.
Topic: "Gems From the Bench" - A great collection of slides of clocks that Bob has owned, or worked on that are particularly noteworthy. He has recently updated his presentation and it should generate some interesting discussion.
Show and Tell: Bring along interesting items for show and tell.
Directions:
FROM THE NORTH: 128S to exit 21B (Route 16 ). Take a right at the lights at the end of the ramp onto Route 16. Papa-Razzi is less than 1/4 mile after first set of lights on left hand side.
FROM THE SOUTH: 128N to exit21 ( Route 16 ) . Take a left at the end of the ramp. Proceed through 2 sets of lights. Papa-Razzi is less than 1/4 mile on left hand side
Please make your reservations ASAP. Hope to see you there.
E-mail your reservations to: watrtwn@aol.com
Or phone: Chris Carey, Secretary
(617) 926-0993