Meeting Announcement
It has been a long time since our last meeting in November. As we discussed at the last meeting, we skipped the January meeting and will meet on the second Monday of March, April, May, and June. Registration begins at 6:00 PM and Dinner will be served at 7:00 PM.
We need some members to volunteer to hold office for next year. Please consider volunteering. You will have lots of help.
Dinner: There will be a choice of 3 beverages and 6 entrees. The cost is only $20 !!
Speaker: The presenter is Ron Price - Identifying Model 57 Pocket Watch Movements By Their Characteristics. Ron will demonstrate how to apply his research on the evolution of the Model 57 to recognize collectible features, fakes, private label movements, and unmarked movements (including this skeleton M57, No. 2959).
Ron's slides and notes: http://www.pricelessads.com/m57/Feb07Ch8/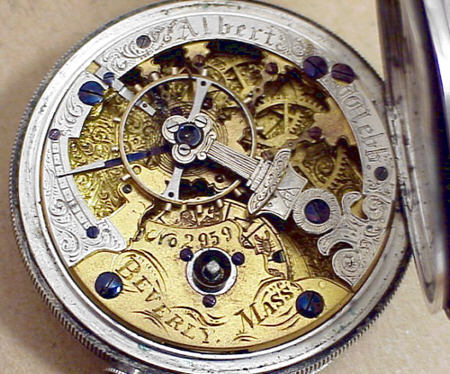 Show and Tell: Bring along your Model 57s and other interesting items for show and tell.
Directions:
FROM THE NORTH: 128S to exit 21B (Route 16 ). Take a right at the lights at the end of the ramp onto Route 16. Papa-Razzi is less than 1/4 mile after first set of lights on left hand side.
FROM THE SOUTH: 128N to exit21 ( Route 16 ) . Take a left at the end of the ramp. Proceed through 2 sets of lights. Papa-Razzi is less than 1/4 mile on left hand side
Please make your reservations ASAP. Hope to see you there.
E-mail your reservations to: watrtwn@aol.com
Or phone: Chris Carey, Secretary
(617) 926-0993