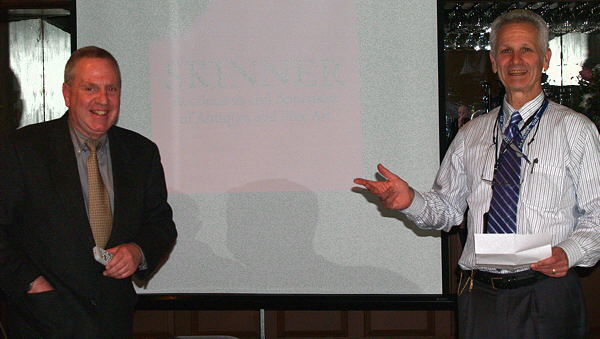 Jon Weber (right) introducing our speaker, Robert Cheney, Clock Specialist at Skinner Auctions
PLEASE NOTE: In the room where we normally meet another group will be finishing up their meeting around 6 pm. The restaurant will then clean the room and make it ready for us. For this reason we will congregate in the lounge until the room is ready. The lounge is straight ahead to the left as you enter the restaurant through the front door. Registration begins as soon as our room is ready and Dinner will be served at 7:00 PM.
Dinner:
There will be a choice of 3 beverages and 6 entrees. The cost is only $20 !!
Please make your reservations as soon as possible. watrtwn@aol.com
Speaker: The speaker will be Robert Cheney. His talk is titled: Selling clocks in Tough times. Robert Cheney is the new Clock Specialist at Skinner Auctions and an appraiser at the Antiques Road Show.
A third-generation clockmaker, restorer, dealer, and consultant in antique clocks, Robert Cheney has provided services to over 35 museums, including the Museum of Fine Arts, Boston; the American Antiquarian Society, Historic Deerfield; the Peabody-Essex Museum; the Concord Museum; and Old Sturbridge Village, where he has served as consulting conservator of clocks since 1977.
Show and Tell: Bring along interesting items for show and tell.
Directions:
FROM THE NORTH: 128S to exit 21B (Route 16 ). Take a right at the lights at the end of the ramp onto Route 16. Papa-Razzi is less than 1/4 mile after first set of lights on left hand side.
FROM THE SOUTH: 128N to exit21 ( Route 16 ) . Take a left at the end of the ramp. Proceed through 2 sets of lights. Papa-Razzi is less than 1/4 mile on left hand side
Hope to see you there.
E-mail your reservations to: watrtwn@aol.com
Or phone: Chris Carey, Secretary
(617) 244-3779