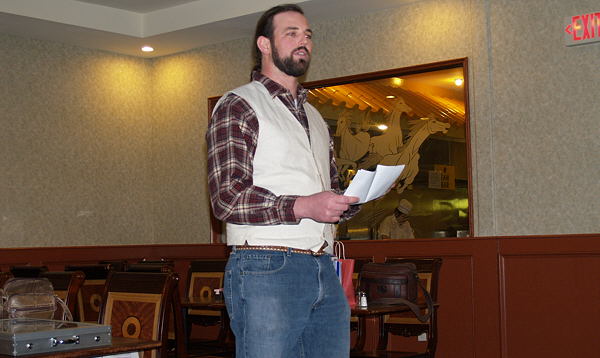 Dan Horan spoke on "Attracting Younger Collectors".
* * *
As was stated in the last meeting notice our meeting night has returned back to the second Tuesday of the month. Also, we are trying a NEW LOCATION. I have used mapquest to obtain directions from the Boston area and have printed them below. Registration begins at 6:30 PM and Dinner will be served at 7:00 PM. I hope to see you there!
Dinner: There will be a cash bar and a delicious buffet. The cost is only $20!!
Please make your reservations as soon as possible. watrtwn@aol.com
or phone (617) 244-3779
Speaker: Dan Horan will be speaking and the title of his presentation will be "Attracting Younger Collectors".
Show and Tell: Bring along interesting items for show and tell.
Sincerely,
~ Chris
Directions:
From the east traveling on the mass pike west:
Take I-90 W/MASS PIKE/MASSACHUSETTS TURNPIKE toward WORCESTER and Merge onto I-495 S via EXIT 11A toward MILFORD/CAPE COD.
Take the RT-109 W exit, EXIT 19, toward MILFORD.
Turn SLIGHT RIGHT onto MEDWAY ST/MA-109.
Turn RIGHT onto BEAVER ST.
Turn LEFT onto E MAIN ST/MA-16.
Imperial Buffet, 350 East Main Street (Rt 16), Milford, MA 01757 is on right.