Registration begins at 6:00 PM.
Dinner: Figure in about $20 for dinner, more with drinks. The selections are primarily Chinese but they also have some stable Italian, pizza, pasta, etc., and some sushi. The buffet includes ice cream, some creme pastries, fortune and almond cookies.
Speaker: This will be an informal meeting and include a discussion led by Ron Price on the manufacture of watches signed by James Russell. Ron has posted information on this subject at
http://www.plads.com/m57/JamesRussell/
These are watches that look very much like a Waltham model 1857, but they are not factory watches and differ in many ways.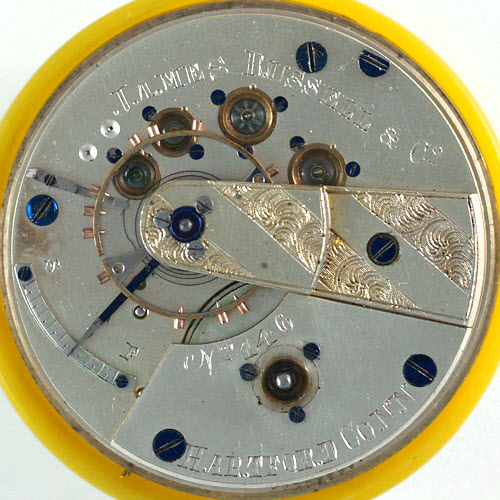 Ron is a recognized scholar of early Waltham watches and this promises to be an intriguing discussion and an opportunity to contribute. Indeed, Ron is running out of ideas to determine the who, what & how the Russells were made, and is looking for leads.
Show and Tell: Bring along interesting items for show and tell.
Need to collect dues too.
Please make your reservations as soon as possible with Jonathan Weber, President @ jlweber@aceweb.com or (603) 321 3870 (cell)
Sincerely,
~ Jon
Directions:
From the east traveling on the mass pike west:
Take I-90 W/MASS PIKE/MASSACHUSETTS TURNPIKE toward WORCESTER and Merge onto I-495 S via EXIT 11A toward MILFORD/CAPE COD.
Take the RT-109 W exit, EXIT 19, toward MILFORD.
Turn SLIGHT RIGHT onto MEDWAY ST/MA-109.
Turn RIGHT onto BEAVER ST.
Turn LEFT onto E MAIN ST/MA-16.
Imperial Buffet, 350 East Main Street (Rt 16), Milford, MA 01757 is on right.