Who Made This Watch?
Hiram W. Smith, Boston, Mass.
Gerrit Nijssen describes a 13J Hiram W. Smith S/N 6937 in his Bulletin article. Below is picture of its top plate. On the pillar plate is stamped TH 937. Gerrit asks if this could be for Thomas Hewitt of the Lancashire Watch Company.
click images for larger view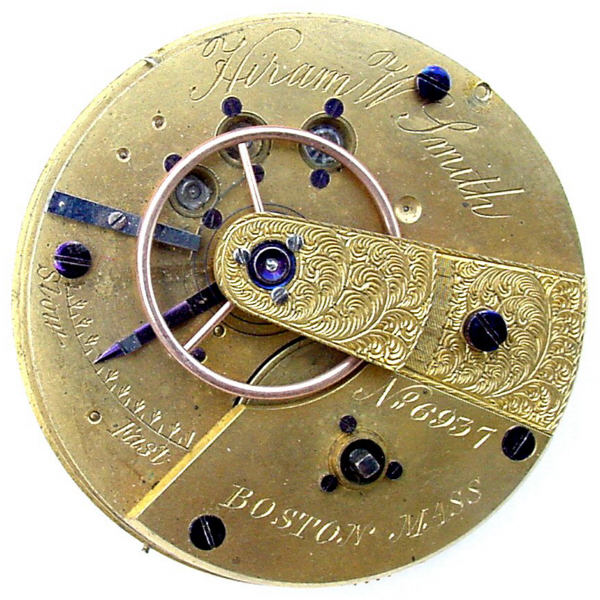 Pictured below are views of another Hiram Smith watch S/N 16866 owned by Dennis Murphy. Note on its pillar plate the marking TH 866 (or is it TK 866). The dial is plain with sunk seconds like on 6937. The case is English coin with same S/N and Chester hallmark. Looks like the maker's initials are TG which isn't in Philip Priestly's 1994 Bulletin Supplement 20. Not sure of the date hallmark from picture; could be "v" for 1859.
Michael Edidin comments that the Smiths look different from the Russells in two respects. First, the engraving on the balance bridge is fussier and more complicated (and less like early Waltham) than the Russells. Second, "TH 866" on the pillar plate of 16866 is not the ebauche maker. Hewitt was always "TPH" and numbers stamped by the rough movement maker are usually 2-digit size (Lancashire gauge) designators. Note that "866" is the last 3 digits of the full serial number. Unlike the Russells there is no second batch number, unconnected to the serial number.