November 18, 2012
Spring Hill Suites
Meeting Highlights By
John H. Fitzwilliam
Our November 18th meeting welcomed Jennifer Carroll, Executive Director of the American Clock & Watch Museum in Bristol, CT. Ms. Carroll reviewed the history of the museum, a must-see for viewing the best of American horology.
The Mart experienced some turnover of member merchandise. The variety of goods, both humble and magnificent, is always interesting to behold.
* * *
September 16, 2012
Spring Hill Suites
Meeting Highlights By
John H. Fitzwilliam
Elections were held. Micah Tasker succeeded Rich Pompeo as President. A small show and tell program yielded some early 1900's technical and novelty items. Meanwhile, the Mart saw activity, particularly with watches. A couple of us pondered some automatic wristwatches for daily use, while our more sophisticated colleagues dealt in collector-status timepieces.
March 18, 2012
Spring Hill Suites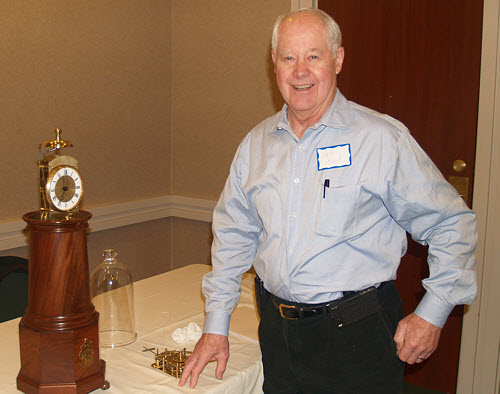 Bob Boyd, clockmaker and restorer from Peterborough, New Hampshire, Bob displayed his Willard Lighthouse clock, the movement of which he recently made to fit a case made some time ago by the late Ted Burieigh. Bob described the process by which he designed and built the movement that features a fall-off strike.
* * *
January 15, 2012
Spring Hill Suites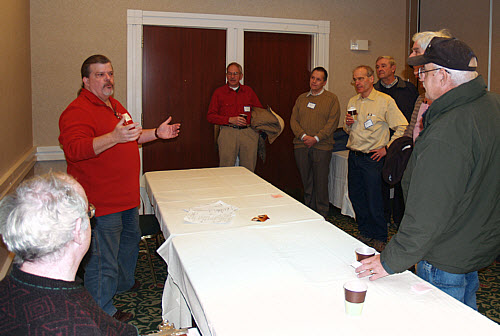 Micah Tasker brought a unique perspective in his presentation, "Collecting Time - Past, Present, and Future." By looking at his collecting experiences over more than 15 years and current industry news, Micah discussed potential coming trends in our collecting of watches and clocks.
* * *
November 20, 2011
Spring Hill Suites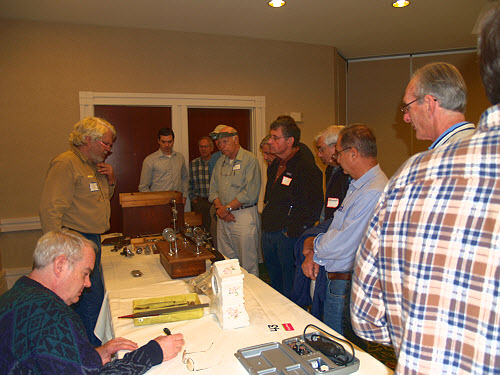 George Collord displayed and described an elaborate watchmaker's lathe made by a Waltham Watch factory worker between 1882 and 1900. George is a collector and dealer in clocks and watches, and owns many artifacts of the Waltham Watch Company.
* * *
March 20, 2011
Spring Hill Suites

Peter Nunes, immediate past president of Chapter 8 and current president of Cog Counters, a wood movement club, discussing various wood movements that he brought to the meeting.
* * *
November 21, 2010
Spring Hill Suites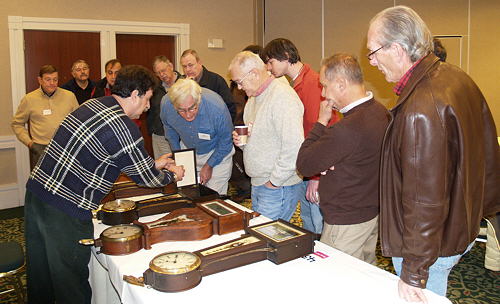 November in the Corner of the Room Program: Bob Frascatore on Banjo Clocks
* * *
September 12, 2010
Spring Hill Suites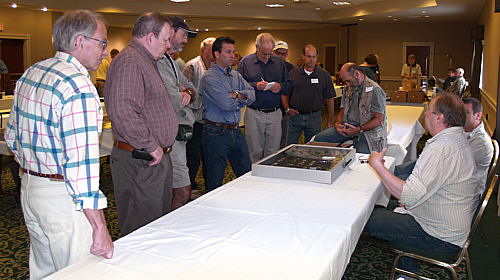 Talk in the Corner program: Long-time chapter member Phil Welsh gave us "An Overview of Wrist Watch Collecting". Phil has been an avid collector and dealer of high-end and military watches for many years.
* * *
May 9, 2010
Spring Hill Suites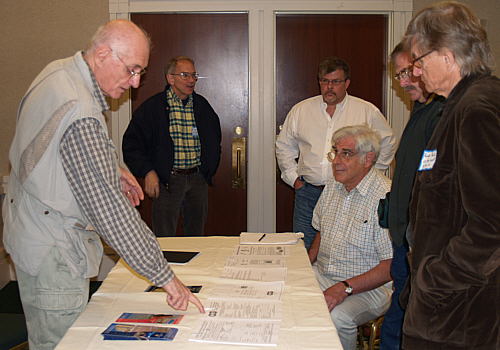 Dan Haff gave an "insider's view" of the huge February Florida Regional Meetings.
Dan would like to see a regional held in the north east.
* * *
January 17, 2010
Spring Hill Suites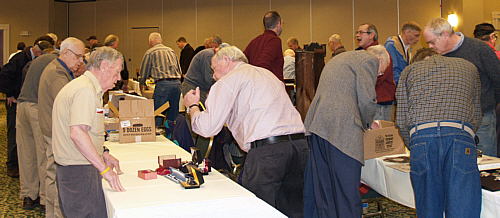 Very active mart at new location.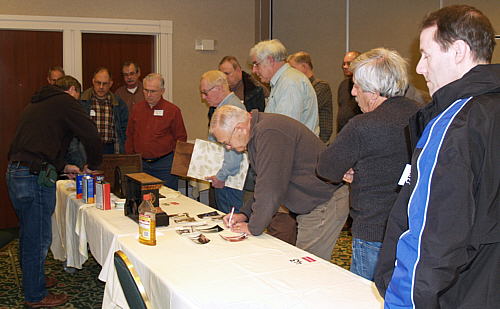 Al Murray, Clock Case Refinishing, at the "In The Corner Workshop"
* * *